ITECH, a professional manufacturer of power electronics testing instrumentsand systems, will launch battery simulator software inSeptember. They are BSS2000 basic single channel battery simulation software,BSS2000 Pro advanced single channel battery simulation software, BSS2000Mmulti-channel battery simulation software and FCS3000 single channel fuelBattery simulation software.
ITECH latest battery simulator software will be equipped with bidirectional DC power supply series (IT6000B/IT6000C/IT-M3400/IT-M3600)to provide users with integrated battery simulator solution. Thanks to its richproduct models, the battery simulator voltage is up to 2250V and power up to1152kW, meeting the simulation demands of in different power ranges.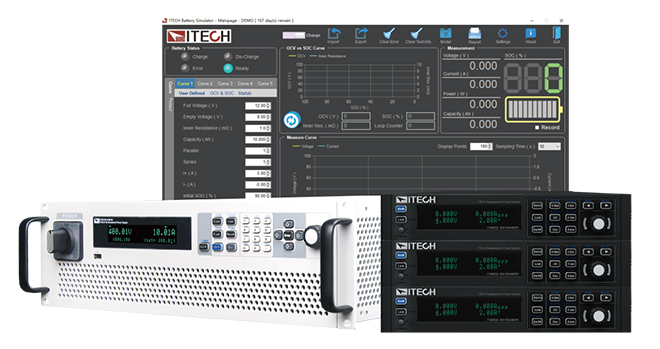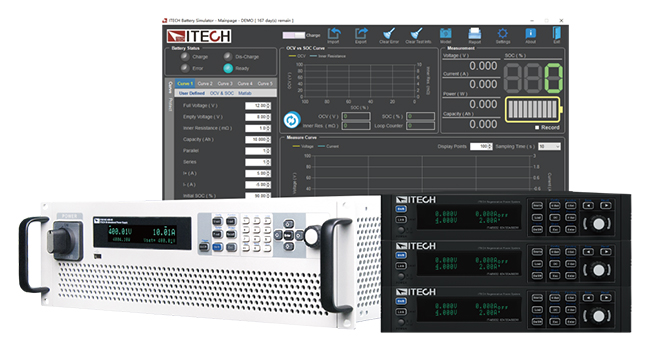 ITECH battery simulator is designed toreplace real batteries and provide a more manipulable battery simulationplatform for the theoretical research of pure electric and hybrid propulsionsystems, accelerate the launch of new power system products in the fields of ships,new energy vehicles, rail transit, and aerospace, etc.
The batterysimulator with the combination of software and hardware not only solves theproblems of low efficiency, complicated wiring and battery aging when usingreal battery tests, but also achieves great technological breakthroughs withregard to the core functions that engineers are particularly concerned about,such as battery characteristic curve simulation effects, charge and dischargeswitching speed etc. According toITECH engineers, the newly launched battery simulator, on the one hand,benefits from the all-in-one hardware technology and can easily achieve"seamless charge & discharge switching". On the other hand, thebattery simulator software deeply combines the mathematical model of thebattery, and users can quickly generate different types of batterycharacteristic curves through simple parameter configuration.
BSS2000 Pro and FCS3000 battery simulationsoftware fill the gap in the testing industry. FCS3000 is the industry's firstprofessional fuel cell simulation software, while BSS2000 Pro redefines thefunction of the battery simulator, meeting the characteristics curve simulationrequirements from traditional batteries to new batteries.
♦ BSS2000 Pro is the first software tosupport BMS protocol customization, enabling communication and interaction withexternal control units while simulating the battery.
♦ BSS2000 Pro is the first software that supports mat file import function.Engineers can build battery model through third-party tools and import BSS2000Pro for charge-discharge curve simulation
♦ BSS2000 Pro is the first simulation software with 8 battery type options(lead acid, lithium battery...).
In addition to the outstanding performance of thesoftware, source & load in one is also the highlight as the hardware unitof the battery simulator (IT6000B/IT6000C/IT-M3400 and IT-M3600 seriesbidirectional DC power supply). Compared with the traditional battery simulatorsolution, it will bring:
♦ High powerdensity design (3Uin 18kW), optical fiber master-slave parallel to easilyexpand power, improve equipment utilization, and reduce the number of cabinets
♦ Regenerative battery simulator solution, theenergy recovery efficiency is up to 95%, save electricity costs
♦ According to changes in external drivingconditions, the battery simulator automatically switches seamlessly betweencharging and discharging simulation states;
♦ Ultra-fastdynamic response speed, power dynamic response time <2ms
The battery simulation series software released by ITECH continues itsusual simple and easy-to-operate interface, closely integrates with thedevelopment of battery technology, deeply researches battery models, andprovides engineers with more professional and comprehensive solutions. For moreinformation, please visit https://www.itechate.com